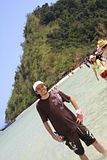 and finally my fav picture at Krabi 
Hope you guys enjoyed the pictures, feel free to click on the thumbnails to see the full picture. be warned its kindda huge coz i didnt resize or even edit any pictures.  click here to see my story + more pictures of  Krabi.
pH – the next time im going to Krabi, i plan to do a roadtrip and drive all the way from KL with my rapunzel.